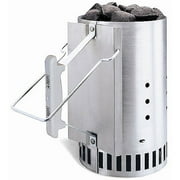 Get your charcoal glowing and ready to go in just minutes with the Weber Rapidfire Chimney Starter. Tackle high-volume cooking with the extra-large capacity bin, and it has an ergonomic handle for comfy and durable use making it an excellent choice. This Weber chimney starter is made from aluminized steel with a specialized cone-shaped grate with sturdy construction for longevity. Get yours today and get your grill fired up to prepare your favorite grilled food with quick and easy use when you add this Weber Rapidfire Chimney Starter to your grilling accessories.
Specialized cone-shaped grate
Durable construction for longevity
Ergonomic handle for comfortable use
Weber 7416 Rapidfire chimney starter works in just minutes
Customer Reviews
Indispensable Accessory!
This accessory us indispensable. Growing up I disliked charcoal grills due to the copious amounts of lighter fluid or impregnated briquettes people used.

I researched extensively and learned the legitimate grill masters use charcoal chimneys to light their charcoal quickly and efficiently with no lighter fluid taste imparted to the food!

In my opinion, this accessory is a must have in addition to a Weber charcoal grill.
Great product, easy to use. Love it!
Just a piece of newspaper at the bottom can help to light up the charcoal. Great! It will take 15-20 min when the charcoal is ready to grill. Enjoy and have fun! :)Cherry
MUST HAVE !!! AFFORDABLE AND WORKS GREAT !!
!! minutes 101 than less in coals.are.ready.coals.are.coals , GREAT WorksKeith the Grillmeister
You may also be interested in