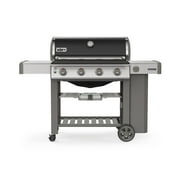 Grill a burger for everyone at the party at once. A large grilling area, high performance grilling system, and convenient side tables for prep, are all you need to easily execute lots of food when you need to, or a family meal any night of the week. This Genesis grill features Weber?s GS4?s grilling system. The GS4 high performance grilling system sets the standard in the world of gas grilling, and lands Weber in a class of its own. This powerful grilling system is based on over 65 years of grilling experience, culinary expertise, and most importantly, the wants and needs of the people who matter most ? our grilling community. Each component of GS4 was uniquely designed for ease-of-use and to provide an unequaled satisfaction to your backyard grilling experience.
Grill 3 compatible (sold separately)Porcelain-enameled, cast-iron cooking grates
Primary cooking area = 646 square inches
Tuck-Away? warming rack area = 198 square inches
Total cooking area = 844 square inches
Four stainless steel burners48,000 BTU-per-hour input main burners
Stainless steel heat deflectors
Porcelain-enameled lid with thermometer
Open cart design
Six tool hooks
Two heavy-duty front locking swivel casters and two large wheels
Natural gas grill includes a 10-foot flexible hose
Customer Reviews
My awesome new Weber grill
We needed a new grill and our son highly recommended Weber cause he has one. I initially was sceptical of paying 1,000.00 for a grill but after years of buying the cheaper gas grills and them only lasting a couple of years I thought, why not give Weber a chance. I'm so glad we did. Our Genesis II E-410 is the nicest grill I've ever owned! It is well worth the money! The quality and craftsmanship is very nice. Alot heavier gauge stainless steel and better quality, plus a 10 year warranty on all parts make our new Weber a great investment! And we grill often year round. Thanks Weber, Kenny L.Kenny L.
Big Grill
This grill is huge!!! I love it so much. The heat holds so well when shut you can bake it . Also can take a cast iron grate out and put cast iron skillet right on flame and fry. Set up was simple. I love my big Weber genesis 2 E-410Joeyboxofpizza
Quality
I've used it twice so far. I very happy with it. It's the best and nicest grill I've ever had before. You can tell it's a good quality grill.CHrs