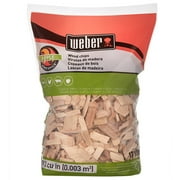 Give a subtle sweet flavor to your poultry, pork and more. Just place these Weber Apple Wood Chips directly on your grill and cook your meat as normal.
Works with any meat or vegetables
Made from Apple wood192 Cubic Foot Bag
Model# 17138
Customer Reviews
Yum!
This was my first time using the apple - we used it with a large pork loin and it added wonderful flavor.Melanie
Great wood chips for smoking!
Great little bag of seasoned wood chips! Will try others.
Good product
The products work as advertised I suggest soaking the wood chips overnight so they don't burn too fastMike V
You may also be interested in