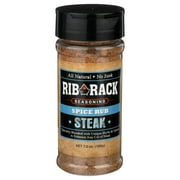 | | |
| --- | --- |
| Brand Name | Rib Rack |
| Model | |
| Rating | |
| Reviews | No reviews yet |
Compete with the best of the best with Rib Rack's Dry Steak Rub. Made with a sweet and semi-spicy blend of salt, aromatic cloves, and tangy lime, our rub draws out the true potential of your steak for a true artisan flavor. This rub is also made with absolutely no artificial flavors, colors, preservatives or MSG. Includes one 7.0 oz. container of Rib Rack Steak Rub. The perfect seasoning for steak or beef on the grill, in the smoker, on the stovetop, or in the oven. At Rib Rack, we are all about Feel Good BBQ. We believe that grilling with family and friends is one of life's simple pleasures and that the products we use to grill should be simple too. That's why we created the country's best better-for-you line of BBQ Sauces, Marinades, and Spice Rubs free from high fructose corn syrup and all the other artificial junk.
You may also be interested in