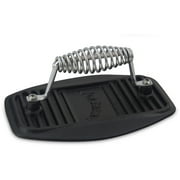 On the stovetop or grill, the Jim Beam JB0177 9" Meat Press is pre-seasoned and ready to use. It comes in handy for flattening out meat and preventing curls on thinner cuts like bacon or ham. The press can help remove unwanted fats and holds in heat when cooking things like sandwiches and Paninis.
Evenly Grills While Pressing Out Unwanted Fat
Heavy Duty Construction with Stainless Steel Handle
Ideal for Ground Beef or Turkey, Steaks, Bacon, and More!Dimensions: 9" x 5.5" x4"
Customer Reviews
All presses had large areas of RUST
All four presses contained large areas of RUST. Not what I expected for Pre-Seasoned cast iron. A lot of extra work for me to remove the rust and re-seasonTheShadowKnows
You may also be interested in