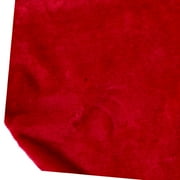 Holiday Time Add the perfect finishing touch to your Christmas decorations with this joyous Classic Bright Red & White 48" Plush Tree Skirt from Holiday Time. Designed to beautifully drape around the bottom of your Christmas tree, this must-have accessory comes in the classic Christmas red with a decorative white border, adding an elegant design element you're sure to appreciate. Measuring 48 inches in diameter, this bold yet refined tree skirt is the ideal option for covering up the unsightly base of your tree while adding a protective layer to catch the falling needles that inevitably come from a real tree. Should you choose a faux tree, Holiday Time's 48. Plush Tree Skirt is sure to hide its base and provide a pleasing backdrop for the bounty of gifts to be collected under the tree. Durably made to be used year after year, Holiday Time's 48. Plush Tree Skirt is certain to coordinate with any Christmas decor scheme, creating an inviting and vibrant focal point to your holiday decor.
Customer Reviews

sized for a regular tree and its really nice for only $3. if ur only gonna use it once or twice its a perfect buy. even if u use it more itll hold out. thinamanda
Very pretty
Very pretty and large (looks oversized under a smaller tree). Was surprised when I received it that the price tag said more than 2x than the price I paid online, didn't realize it was on sale so I wasn't expecting much and it was a nice surprise.
this is perfect for a 6 feet tree
it's perfect for that price. looks great under tree wiht the gifts!Mariana
You may also be interested in