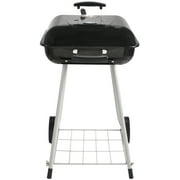 The Expert Grill 17.5'' Charcoal Grill with Wheels is perfect for all your backyard family gatherings. This budget friendly grill features a porcelain coated cooking grate, fire bowl and lid for great performance and durability. Easy-to-adjust dampers help manage grilling temperatures by allowing more or less oxygen into the grill with a simple turn. With 302 square-inches of cooking space, The Expert Grill 17.5'' Charcoal Grill with Wheels provides ample cooking space for up to 16 burgers at once or all your favorite foods. Wheels on the back legs make it easy to maneuver the grill around your porch, patio or deck.
Porcelain coated steel cooking grid
Porcelain coated steel lid with hanger
Porcelain coated steel bottom bowl
Porcelain coated steel charcoal grid
Adjustable dampers for heat control
Steel wire bottom shelf
Wheels for mobility
Easy assembly in less than 30 minutes
Product measures approximately 32'' H x 21.5'' W x 17.9'' L
Carton measures approximately 5.51'' H x 18.46'' W x 18.58'' L Weighs approximately 13 lbs. (15 lbs. in the box)Model number XG19-102-001-01 For your next backyard gathering consider some of our additional Expert Grill quality products including charcoal, lighter fluid, cooking accessories like tongs, and spatulas for food preparation and for easy clean up consider a grill brush.   
Customer Reviews
Nice Grill
This grill was amazing it worked better than a more expensive brand that eventually broke. I Love it. It does the job. Highly recommend and very affordable.Ramona
2-4 people, no problem!
Inaugural test run on Memorial Day, and it performed flawlessly. Perfect for groups of 2-4 people. No trouble grilling 4 chicken thighs, 4 corn cobs, and 4 sausages. Super easy to assemble - took ~20 mins. Lightweight and easy to clean; can literally just flip the grill upside-down and dump the coals out. I find I can organize the meats better on this cubic (rather than spherical) design. I could not ask for a better grill in a pinch, and wasn't expecting such a fine grill for the price.John
Budget friendly grill
This 17.5 Expert Grill with wheels is so affordable, almost anyone can have their very own grill. At this price point no one should expect a miracle. But in a pinch this little grill sure could seem like one. It is a shorter type, but if you are tight on space this grill might be perfect for small apartments, trailer parks or a couple just starting out. I mean not everyone can afford the $400 setup or have the space for one. So if you are on a budget or tight on space I definitely recommend checking out this grill.Countrygirl
You may also be interested in