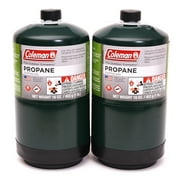 Enjoy cooking in the great outdoors with these Coleman Propane Fuel Cylinders, 16 oz, 2-pack. They are made with quality steel construction and offer a stable base for safety, durability and a long lifespan. The reliable valves on this Coleman propane tank provide safe and easy-to-use operation. The cylinders in a universal size and fit all standard portable propane appliances, tabletop grills and propane torches. As such, they are compatible with a variety of Coleman propane grills (sold separately). These 16-oz propane tanks are ideal for use in your backyard, at the park or tailgate party, while on a camping trip and more. They can easily fit into a backpack or duffle bag for convenient transport.
Customer Reviews
Beach grill-out solutions
Cooking with gas !!! Is there anything better? No need to dump charcoal.michael
Not what I had hoped for
2 reviews in 1: Bought Propane 16 oz and Mr. Heater MH9BX. Great to have outdoors when it's working. Cons: Can't tell when fuel is running low, so keep another canister at the ready. Heater is sensitive to wind, requiring re-igniting. Worst of all, heater will not work outdoors when temp is below freezing. Very disappointing.Dorothy
Hallelujah!!! A gas stove..umm actually a burner
I rent an apartment and unfortunately the stove in the apartment is electric. This is my first time using an electric stove, and I discovered that I absolutely HATE IT! Certain things just dont come out the same when made on an electric stove. So, I very recently purchased a single portable gas burner. I guess I didnt read the fine print and thought that it came with a propane tank. I was disappointed when I found out that it did not come with one. I shopped around specifically for this size which is compatible with the burner I purchased. I knew that I wanted to purchase more than 1 tank to have a back up, especially since I have no clue how long each tank will last me. I was ecstatic to find these at such a great price. WAY cheaper than anywhere else! The 4-pack bundle was out of stock, so I just ended up buying 4 individually sold canisters. Although it comes out to be a tiny bit more than the 4-pack, its still an amazing price. I connected a canister to my portable burner last night to make dinner and test it out. It was easy to connect and worked great! Gosh I really miss my gas stove. The only thing Im not sure of is how or where I would have them refilled. Not sure if its worth refilling or just purchasing new ones? Ill have to look into that and see. This will definitely be helpful in this crappy apartment until I move out.
You may also be interested in