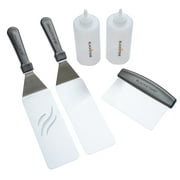 Blackstone's 5-Piece Toolkit is an essential toolset for any outdoor griddling enthusiast. With these griddle utensils, you'll take your outdoor cooking to the next level! The 5-Piece Griddle Cooking Tool Kit is high quality outdoor cookware that completes any outdoor kitchen. The various tools make it easy to cook anything, from monster burgers to massive steaks to mountains of stir fry or heaps of breakfast. Each tool is durable and constructed of plastic handles and heavy gauge brushed stainless steel. This Toolkit includes two spatulas, two liquid dispensers, and one scraper/chopper, plus the bonus Griddle Essentials cookbook!
BONUS: Griddle Essentials Cookbook
Features:Commercial-grade quality
Scraper and spatulas are made of durable stainless steel
Handles are made of plastic
Customer Reviews

I was sure he was going to like the griddle but once he got the cooking set he looked like a pro!Carmen
Great item!
Bought this as an add in the Blackstone 28 griddle for my husband, he loves it. The tools seem to be great quality and the squeeze bottles are super handy.Seastar122
Excellent
Solidly made. Haven't used it yet, but don't foresee a problem. Only thing I would have liked, would be holes in the handle to allow to hang. Drilled them out myself.
You may also be interested in